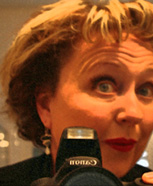 Cammie Winston
Cammie Winston has been doing professional voiceover work for more than half her life. Based out of Sacramento, California, she runs her own recording studio providing both audio services and voiceover training.
Her background in farm chores, acting and radio entertainment have proven to be the right combination of elements for Cammie to build a successful voiceover business that serves a diverse client base spanning the globe.
Cammie loves her work in voiceover, her voiceover clients, her voiceover students, her husband Jeff, her family and friends, their entrepreneurial lifestyle, her cat Wilma, baking sourdough bread, camping in their teardrop trailer, paddling kayaks on the American River, reading fiction, eating fresh seafood, racing the Gator jet boat up the Feather River, snapping photos non-stop, growing tomatoes, swimming---even when it's too cold, laughing loud and often, taking the road less traveled and making every day a celebration.
That's about it in a nutshell.
Down to earth. Fun. Professional. That's Cammie!